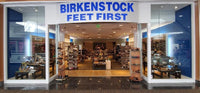 Who We Are
Birkenstock Feet First is a locally owned and operated shoe store with five locations in North Carolina including:
Charlotte, Greensboro, Winston-Salem, Chapel Hill, and Wilmington.

Birkenstock Feet First specializes in comfortable and supportive footwear. Our customers visit our stores for a variety of reasons whether they're trying to find a good nursing or chef shoe, or if they need a pair of shoes where they can roam the city all day. We carry both men's and women's shoes, and with our vast selection of brands and styles, there is something here for everyone and every foot.
"Birkenstock Feet First is my go-to store for quality shoe selections and has been for years."

Carla B.
"Birkenstock Feet First has been my "BFF" for shoe shopping since day one."

Emily T.
"These folks stand behind their products when so many do not. You'll be glad to buy from a place that backs up what they sell."

Tim K.